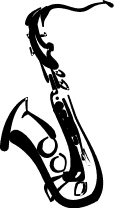 This page contains jazz saxophone and flute solo transcriptions by numerous jazz masters.

I view transcription of jazz solos to be an essential part of learning how to improvise. Learning the language of jazz greats such as Charlie Parker, Lester Young, Phil Woods, etc. develops a vocabulary for use during your own improvisations. Solos are transposed for convenience for C, Bb, and Eb instruments. Obviously if a solo is played on a different instrument from the original recording, range adjustments may be necessary.

I was asked by a member of the Phil Woods website about my transcription methods.
This
was my response.

Transcriptions are always available for free on my website. If you wish, feel free to make a donation if you have found the transcriptions to be of value.

Most Recent Transcription Added:
08/07/13: Out Of Nowhere, Larry McKenna